Shri Mahavirji
Location : Shri Mahavirji is located in Sawai Madhopur district.
History : According to a Jan legend, a few hundred years ago, a cow would return home daily with its udders empty. Perplexed the cowboy followed the cow and saw it voluntarily shedding its milk at a particularly spot. Out of curiosity, he dug up the spot, only to unearth an idol of Lord Mahavira. Thus, Shri Mahavirji was enshrined.
Main Attractions : The main attraction here is a statue of Shantinath, a Jain Tirthankar, which measures 32 ft. in height and has a majestic appearance. A big fair, held in MArch-April every year attracts a huge number of devotees, irrespective of caste or creed.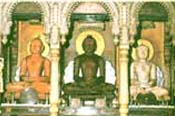 Shree Mahavirji Temple