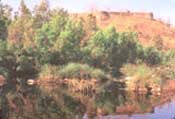 Dhariyavad Fort & Sanctuary,
Dhariyavad, Sita Mata Sanctuary
The jungle of Sita Mata is spread over the Aravali range and the Vindhychali ranges. Three rivers flow through the forest. According to a popular belief, it was in this jungle that Lord Rama had exiled his wife, Devi Sita. She had taken refuge in Rishi Valmiki's Ashram, which was situated here. Leopards, hyena, jackal, fox, porcupine, sambhar, wild boar, four-horned antelope, nilgai and flying squirrel are among the animals seen here..