Alwar - 'The Tiger Gate' of Rajasthan is equidistant from Jaipur (150) as well as Delhi (170). Situated in the cradle of Aravali hills, it has a perfect picture postcard setting and looks as if carved magnificently out of jagged, craggy rocks. The harsh hills are surrounded by lush green deciduous forests and lakes, dotted with architectural splendors. The deep valleys and the thick forest cover is a haven for many species of birds and animals. It is one of the oldest cities of the state and its prehistoric and historic sites are an archaeologists delight.

Alwar was a part of 'Matsya Desh', most of it around 1500 BC was included in the territory of Matsya. It is believed that the legendary Pandavs, the heroes of Mahabharta, spent the last year of their thirteen years of exile over here in the city of Viratnagar. Alwar has a very turbulent history due to its strategically important location. Nikkumbha Rajputs were believed to be the first occupants, who built the fort and the old town, the remnants of which are still visible at the foot of the hills.

The present city was founded in 11th century by Maharaja Alguhraj, but it was rapped incessantly by the Mughals. In 1775 AD Maharaja Pratap Singh, a Kachhawaha Rajput belonging to the same clan as the one which ruled Jaipur wrestled back Alwar from the Mughals and established a principality of its own.
GENERAL INFORMATION

Area : 44.76 sq. km.
Climate : Max. Min.
Summer : 37.0° C 24.0° C
Winter : 31.0° C 11.0° C
Rainfall : 62 cms
Best Season : September-February
Clothing :
Summer :Light Tropical
Winter : Light woolen
Languages : Rajasthani, Hindi, English.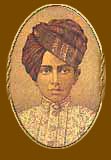 Maharaja Jai Singh of Alwar
One of the most fascinating
Princes of his time.