Chittorgarh, the awe-inspiring hill fort built on a massive rock 3 miles long and 495 feet high, lies 72 miles north-east Udaipur. It was said that this fort was the key to all of Rajputana, and any conqueror who had ambitions on Rajputana had to be the finest medieval Hindu fort in existence. But more than that, it is cloaked in legends of valor, chivalry and glorious death and occupies a preeminent position in the Rajput psyche.

Chittorgarh was built in the 8th century by Bappa Rawal the first of the great Sisodia rulers. Between then and 1567 it fell victim to three bloody sieges, each one ending in glorious defeat and jauhar, the mass self-sacrifice of its womenfolk in a sacred fire.
GENERAL INFORMATION
Area : 6.5 sq. km.
Altitude : 408 meters
Climate : Mean Max. Mean Min.
Summer : 43.8° C 23.8° C
Winter : 28.37° C 11.6° C
Rainfall : 60-80 cms.
Best Season : September- March
Clothing :
Summer : light tropical
Winter : light woollen
Languages : English, Hindi, Rajasthani.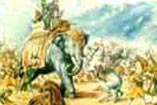 A war painting